Geotextile Nonwovens Underlay Propex AS 501 (170gsm) - 2.0m wide x 200m roll
A high quality lightweight (170g/m2) polypropylene underlay fabric. Good abrasion resistance.
See our full range of Propex Geotextile Underlays in full 200m and 115m rolls or cut-to-length quantities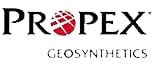 Propex AS-501 Nonwoven Geotextile Underlay Fabric - 2.0m wide x 200m roll. Full roll (400m2)

Also available as cut-off-the-roll quantities

Features & information:
We suggest that for pond liner applications that this Propex AS501 grade is used as an underlay to give a clean worksite & some protection, but mostly to prevent the contamination by dust & sand of seaming & detailing processes. It is not meant for protection against hard sharp aggregate. In that case use Propex grade AS 801.
Grab tensile strength: 780N
Mass: 170g/m2
Product Conformance to Strength Specification: Class B
Good abrasion resistance.
Will continue to cushion & protect Firestone EPDM geomembrane pond liner for years.
In most pond applications underlay is not necessary. Simply avoid the exposure of sharp hard objects & cover stony aggregate with sand or old carpet.

Specifications: Propex Geotextile Underlay is made from virgin polypropylene staple fibres, non woven, needled punched - See Data Sheet PDF downloads below.

Please Note.
This product complies with Australian & New Zealand Highway Specifications. RMS(NSW) - R63, DTMR(QLD) - MRTS27, NZTA - F/7
Manufactured in accordance with international quality standard DS/EN ISO 9001
If you need assistance ring for expert advice on 1 three hundred 733 double one 3