Geotextile Nonwoven Underlay Propex AS 801 (272gsm) - 2.0m wide x 115m roll
A high quality lightweight (272g/m2) polypropylene underlay fabric. High abrasion & puncture resistance.
See our full range of Propex Geotextile Underlays in full 200m and 115m rolls or cut-to-length quantities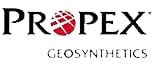 Propex AS-801 Nonwoven Geotextile Underlay Fabric (272g/m2) - 2.0m wide x 115m roll. Full roll (230m2)
Also available as cut-off-the-roll quantities

Features & information:
In many pond/dam applications underlay is not necessary if the substrate is entirely sand or clay which can be profiled and compacted. As Firestone recommend minimum 250GSM underlay as protection, we have this Propex AS801 (272GSM) geotextile underlay for use prior to laying down EPDM geomembrane pondliner onto harsh profiled substrates which have hard exposed aggregates of greater than 5mm particle size. It is also used as a protective cushion under the EPDM liner on the base of concrete substrates. We also recommend this same grading to be used on top of the liner or a layer of sand for liner protection against potentially sharp items placed on top such as stones, bolders and statues
Grab tensile strength: 1200N
Mass: 272g/m2
Product Conformance to Strength Specification: Class C
High abrasion & puncture resistance.
Will continue to cushion & protect Firestone EPDM geomembrane pond liner for years.
In most pond applications underlay is not necessary. Simply avoid the exposure of sharp hard objects & cover stony aggregate with sand or old carpet. Underlay has advantages in preventing dust & sand contamination into the seaming & detailing processes

Specifications: Propex Geotextile Underlay is made from virgin polypropylene staple fibres, non woven, needled punched - See Data Sheet PDF downloads below.

Please Note.
This product complies with Australian & New Zealand Highway Specifications. RMS(NSW) - R63, DTMR(QLD) - MRTS27, NZTA - F/7
Manufactured in accordance with international quality standard DS/EN ISO 9001
If you need assistance ring for expert advice on 1 three hundred 733 double one 3.